Made this past weekend:
http://www.chef-in-training.com/2011/10/homemade-breadsticks.html
Major fail on either the yeast's or my part. The activated yeast didn't really get foamy, but it wasn't expired and the water was lukewarm.
Mixed up per recipe, but the dough was still sticky and messy. I should have added more flour, but was kind of afraid my mixer was going to vibrate right off the counter. So, I ended up like I was doing emergency surgery on someone made of dough.
In the end, they taste okay, but look
nothing
like the original recipe's picture. Baked, they look more like chicken than bread, but the house smelled
awesome
. I didn't have room for a stick for the last one, and that's the round shaped one - and ironically the better cooked one. Because it was still messy, they wouldn't twist prettily.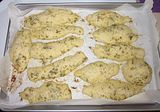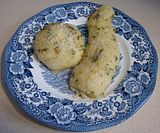 I may retry with fresher yeast and more flour. And less butter...I didn't even use what it calls for.