Last week I made a point to try and get back onto a normal dinner menu most of the week. I've been grazing more and more because I've just been too damn tired to do much else. I know that's not good for me in the long run, but when I'm so tired I'm fighting - and subsequently losing - to stay awake through the 8 o'clock hour, convenience wins out. The last thing I've been wanting to do is cook requiring me to stand at the stove for longer than it takes to scramble an egg. So it's been breakfasty dinners or freezer-to-the-oven or -microwave.
So, I pulled out some chicken from the freezer and a bag of Bird's Eye Steamfresh brown rice with *gasp* vegetables.
I saw their suggestion on the bag of adding some ranch dressing for some zestiness. I didn't have regular ranch, but I do have Parmesan Ranch....
So, I cooked up the chicken pieces in a wee bit of veg oil to keep them from sticking to the pan and some liberal dashes of garlic & onion seasoning. Cooked to get the pink off, then lowered heat and let them finish cooking while I went to change clothes and wash my face.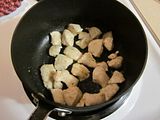 Next up, nuke the rice/veg bag.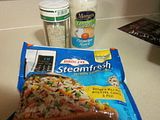 Dumped rice and the chicken in a bowl and added about a tablespoon or so of Marzetti's Organic Parmesan Ranch dressing and mixed. I also added a dash or so of Pesto seasoning.
Voila! This is two good servings, so I had leftovers for another night.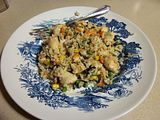 I also gave the No Bake Nutella cookies another try, this time making extra sure I had the amount of milk it called for. And Yay! they turned out much better this time. =)