Nutella No Bake Cookies
Recipe:
http://www.shugarysweets.com/2011/08/nutella-no-bake-cookies.html
I love Nutella. No bake is even better, even if you have to wait longer. But I didn't have to use the oven and the fridge is already running.
So, I present the cookies chillin' in the fridge: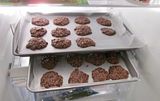 They taste so yummy! I'm tempted to try it with a little more Nutella than the recipe calls for or just double the Nutella in place of the peanut butter. More likely the former because I'm not sure how the Nutella will hold up/bind during refrigerating.
My only snafu was I misread and used a whole cup of milk, so they didn't set up firmly:
When did I realize the goof? About 4 hours later.
I will definitely give these another go. =)