I don't know how this cookie bar got named after a wetlands bird, but doesn't matter since they sounded om nom. I use the term "cookie" loosely, it's not cookie consistency, but it's not cake either. Hard to describe, other than sugary goodness.
Mud Hen Bars
Found:
http://chef-n-training.blogspot.com/2012/01/mud-hen-bars.html
Dough and goodies layers: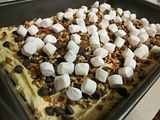 The dough is thinner than cookie dough, but thicker than cake batter. It turns out to be a sweet-dough type, kind of like the non-pastry coffee cakes. In fact, you could probably use this dough base and do a streusel topping to do just that! I may give that a try in the future.
The brown sugar meringue: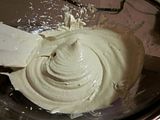 All baked! Yes, there's a hole in the meringue, I forgot to take a picture before I sampled:
Once baked, mine turned out sort of like those meringue cookies only softer. The marshmallows and meringue sort of melt and merge and get all nice and gooey: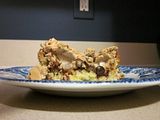 First off, you'll notice mine don't look like the above blog's pictures. I think I know why. Duh. *headsmack* Instead of
folding
the brown sugar into the meringue, I used the beaters, so I guess it fluffed them up a bit. My bottom "crust" seems to be thicker as well, not sure why, maybe weather conditions. *shrug*
Surprisingly, they are not that heavy and are deceitful in their sugary lightness. It would be very easy to sit with a large glass of milk and eat half the pan. LOL
I brought in some to work and so far only Crystal has tried one (it's Friday, not everyone is in) and she liked it.
Next up, I think I'm giving the Cinnamon Roll Cake a try.