That time of year already...time for Christmas stitching... not that I have a lot people to come up with gifts for or am religious, but I enjoy Christmas cross stitch patterns. Reindeer are my favorites.
Truly, quick stitchings, supposing you don't get ¾ done with one and have to frog it because you short-stitched a line by
one
. I managed all three over the weekend, amidst grocery, time at the parental units', and baking.
Clicks makes bigs...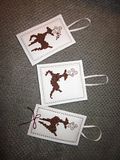 Designs:
Jinglebell Reindeer, Holly Reindeer, and Mistletoe Reindeer
Designer/Source:
Daffycat Designs
Website:
www.itsdaffycat.blogspot.com
freebies
Fabric:
14 ct. Aida
Color:
White
Floss:
DMC
Started:
30 Sep 2011
Finished:
02 Oct 2011
Size:
@ 2" x 3" +/- design size
Goofs:
none
Purpose:
ornaments
Notes:
Used left over gold beads for Jinglebell from Shimmering Mermaid. "Stuffed" with 2mm craft foam.
Available?
Undecided