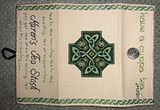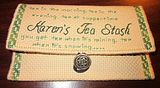 Design:
Celtic tea bag wallet
Designer/Source:
Celtic Cross - Cari Buziak/Aon Celtic Art
Website:
www.aon-celtic.com
(Freeware section)
Fabric:
14 ct. Aida
Color:
Khaki
Floss:
DMC
Started:
08 Sep 2011
Finished:
13 Sep 2011 (stitching); 20 Sept 2011 (finishing)
Size:
5" x 3" folded; 5" x 7" flat
Goofs:
none
Purpose:
tea bag holder birthday gift for friend who
loves
tea.
Notes:
I switched out the lightest color green in the cross because it was too minty (swapped 369 with 368), otherwise, colors as indicated; lyrics in 163; "have a cuppa..." in 904; "tea stash" in 500. Double-sided fusible interfacing on the inside to join the stitching and inside fabric. Blanket-stitched the edges; a little messy since this is the first time I've done that stitch. I think the prep and figuring out how to do this took longer than actualy stitching it up! =D But, hoping she likes it...(She did.)
Borders from
Celtic Charted Designs
by Co Spinhoven.
Lyrics from
Great Big Sea
's "Have A Cuppa Tea", on their album
Safe Upon the Shore
.
Available?
No