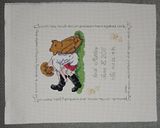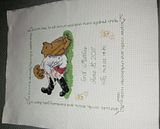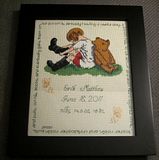 Design:
Christopher Robin and Pooh
Designer/Source:
Storybook Favorites in Cross-Stitch
by Gillian Souter
Website:
www.amazon.com
Fabric:
14 ct. Aida
Color:
cream
Floss:
DMC, chart-indicated; name/info/quote in 904; bees in 783/728
Started:
20 Aug 2011
Finished:
31 Aug 2011
Size:
@ 7" x 9
Goofs:
none
Purpose:
birth announcement
Notes:
I added the quote as a border from
Winnie the Pooh
by A.A. Milne, Chapter 8 "In which Christopher Robin leads an expotition to the North Pole". I realized about halfway through that I should have started the quote on the top rather than the right. I wasn't going to undo at that point. Added the bee as space fillers from the Winnie the Pooh sketch chart by Disney.
Available?
No