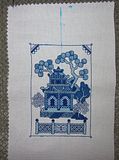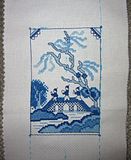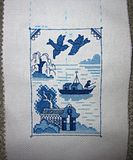 Design:
Blue Willow Patterns
Designer/Source:
Oriental Cross-Stitch
by Lesley Teare
Website:
www.amazon.com
Fabric:
18 ct. Aida
Color:
white
Floss:
DMC, chart-indicated
Started:
19 Jun 2011
Finished:
19 Jul 2011
Size:
4.55" x 3" each stitched area; --" finished/overall
Goofs:
yes, a few wee ones; not design-impairing.
Purpose:
decorative for my kitchen; it will complement the blue walls and my Lochs of Scotland dishware.
Notes:
panels, from top to bottom: The Palace, The Escape, and The Lovebirds. I
almost
didn't do the French Knots, but it didn't look right, so I learned them. At least now I can do a half-way decent French knot.
Available?
No - Mine!