Growth Rings just needs finished off by the maternal unit into its final form. I finished it a couple weeks ago and was hoping she'd have done that by now, but I knew I was too hopeful...it took her 3.5 years before she got something else I had done for her framed! LOL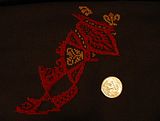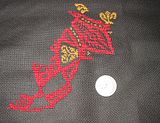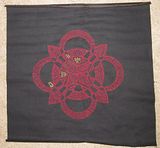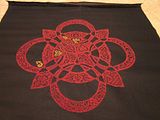 Design:
Growth Rings
Designer/Source:
Tracy Horner/Ink Circles
Website:
www.inkcircles.com
Fabric:
18 ct. Aida
Color:
black
Floss:
DMC 221 & 420
Started:
06 Apr 2009 & 17 Mar 2011
Finished:
22 Jul 2011
Size:
Ah, forgot to measure
Goofs:
I think so, one square off somewhere. I could find it if I searched for a few minutes.
Purpose:
new cover for Mom's footstool.
Notes:
it would have been done sooner if I hadn't taken an almost-two year break...multiple factors led to UFO status. Coloring in the pictures is not exactly representative of the colors, I'm not very adept at photographing black fabric projects. The last picture is probably the closest.
Available?
No