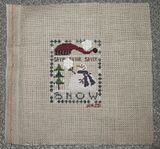 Design:
Snow
Designer/Source:
The Trilogy (Treats! line kit)
Website:
www.heartinhand.com
Fabric:
32 ct. Belfast Linen
Color:
Summer Khaki
Floss:
The Gentle Art
and
Weeks Dye Works
, 1 over 1
Started:
02 Apr 2011 (my part)
Finished:
11 Apr 2011
Size:
@ 1.7" x 2.1"
Goofs:
yes, it was started by someone else and their top stitch goes the opposite direction than my preferred direction, so two sections of the tree go the "wrong" way...I went with it because I wasn't going to frog over-1 and reasoned that it gave the tree more "texture".
Purpose:
Notes:
as noted, started by another, so I stitched all but the snowman body/scarf/nose. I will probably never stitch over-1 on this small a count for a full piece again. Ever.
Available?
Yes