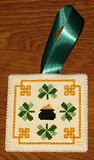 Design:
from Shamrock biscornu
Designer/Source:
Linden Bee
Website:
Linden Bee Designs
Fabric:
18 ct. Davos(?)
Color:
cream
Floss:
DMC 904 (dk), 164 (lt), 728 (gold), 3855 (lt gold), 310
Started:
02 Mar 2011
Finished:
06 Mar 2011
Size:
@ 2½" square (design)
Goofs:
none
Purpose:
decorative
Notes:
I didn't feel biscornu-y this time, so I stitched half and added a wee pot o' gold then adopted it into a small hanging and backed it with white self-adhesive felt. I'm not crazy about the light green choice and if I stitched it again, would probably choose a lighter shade of dark green.
Available?
Yes