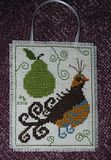 Design:
Day One (modified)
Designer/Source:
monsterbubbles; Just Cross Stitch 2009 Christmas edition)
Website:
www.monsterbubbles.com
Fabric:
18 ct. Aida
Color:
oatmeal
Floss:
DMC
Started:
21 Dec 2010
Finished:
21 Dec 2010 (@ 12 hours of work)
Size:
2¾" x 3½"
Goofs:
none
Purpose:
Christmas ornament
Notes:
I didn't like the pink and flesh colors for the partridge, so I changed the body/tail to 3031 and the breast to 931 and a 783/3829 blend; the eye is ecru; the beak is 721. The pear colors are unchanged, though I did move it closer to the partridge. Beads are left over lime and mauve from Shimmering Mermaid. For time's sake, I only did the partridge and pear, and freehanded the swirls from the border. The colors for the partridge looked better together on the bobbins; we'll see how the recipient likes the colors...
Finished off with self-adhesive felt backing.
Available?
No