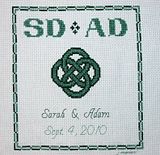 Design:
by me using elements from sources in Notes/Links
Designer/Source:
See Notes
Website:
See Notes
Fabric:
16ct. Aida
Color:
cream
Floss:
DMC 163 & 890, chart-indicated
Started:
25 Aug 2010
Finished:
02 Sep 2010 (with 2 days to spare!)
Size:
95w x 102h / 5 ⁄
8
" x 6¼"
Goofs:
none
Purpose:
wedding gift
Notes:
A week and a half before the wedding,
I decided
it hit me I should make them something. The groom used to be our work study and showed interest once when I had a project with me, so I knew he would at least appreciate it. I think at the time his current girlfriend then is now his wife and he said she did cross-stitch too.
Initials from Celtic Cross Stitch

Celtic knot from DragonBear, I added the backstitching to polish it

Names and date from "Flourishes" alphabet at Better Cross Stitch Patterns (free)

Border from The Irving-Munson Alphabet Book

Available?
No