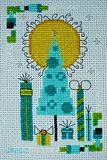 Design:
Cool Christmas
Designer/Source:
Fresh Threads Studio from Just Cross Stitch Jul/Aug 2010
Website:
n/a
Fabric:
14ct. Aida
Color:
white
Floss:
DMC, chart-indicated, 3 over 1
Started:
15 Sep 2010
Finished:
27 Sep 2010
Size:
chart-indicated
Goofs:
none
Purpose:
decorative
Notes:
I saw two chart Oops: 1. the 5 stitches NW of the sun are charted as white, but should be silver; 2. the corner "borders" show either an extra line of 907 on the NW corner, or a missing line on the SE corner. Since I'd already done the SE corner, I matched the NW corner to it; another picture I saw of it, someone had matched their SE to the NW. I used several silver beads rather than hunt for a star treasure.
Available?
Undecided