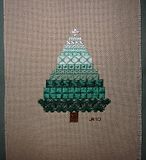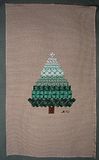 Design:
Oh Christmas Tree sampler
Designer/Source:
Just Cross Stitch 2009 Christmas ed.
Fabric:
28 ct. evenweave
Color:
khaki
Floss:
DMC, over 2, chart-indicated except for
Notes
Started:
Oct 2009
Finished:
21 May 2010
Size:
3¼" x 2½" (widest parts)
Goofs:
none
Purpose:
Christmas ornament
Notes:
omitted "2009"; replaced DMC 3813 with 3815 because I didn't have any and the metallic E168 with DMC 30762R; I got a little annoyed with the Cushion and Rhodes Heart stitches...those and lack of a color was the delay in completion time, it takes nowhere near 8 months to stitch!
Available?
Yes