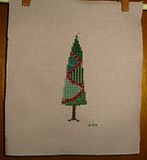 Design:
Tree Sampler
Designer/Source:
Rainbow Gallery
Website:
www.rainbowgallery.com
Fabric:
28 ct. evenweave
Color:
khaki
Floss:
DMC, over 2
Started:
12 Sep 2009
Finished:
13 Sep 2009
Size:
@ 1¼" x 4
5
⁄
8
"
Goofs:
yes, not design-impairing; miscounted on a couple rows, not too blatantly obvious
Purpose:
Christmas ornament
Notes/Modifications:
I refused to buy the RG threads when I have a ton of DMC, so I matched up my own colors. I used:
DMC 498 for the red
Section A is 319
Section B is 501 with the Rhodes stitches in 319 and I also reversed my stitches
Section C is 502 for the lighter green, 936 for the darker and reversed the stitch on one of them
Section D is 502 and the vertical tied crosses are 367, and I also did some reverse stitching on alternating lines of 502
Section E is 3362, and the broad crosses are 895; the brown is 3031.
Available?
Yes