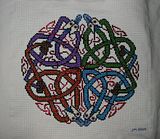 Design:
Quarters
Designer/Source:
Celtic Art in Cross Stitch
by Barbara Hammet
Website:
www.amazon.com
Fabric:
14 ct. Aida tote bag by Charles Craft
Floss:
DMC
Started:
13 Jun 2009
Finished:
03 Jul 2009
Size:
@ 7¾" square
Goofs:
none, Celtic stitching isn't very forgiving
Purpose:
gift as requested I make her something using one of the designs within this book since she gifted it to me. =)
Notes:
changed out most of the colors because they look kinda blah, and wanted bolder colors. I only kept black and the colors in the animal's heads. And tried to choose the four knot colors to reflect the four seasons.
Available?
No