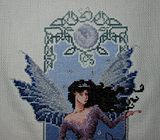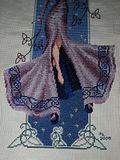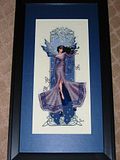 Design:
Fairy Queene (Queen Maeve)
Designer/Source:
Magical Cross-Stitch
book
Website:
www.amazon.com
Fabric:
18 ct. Aida
Floss:
DMC, chart-indicated
Started:
09 Feb 2009
Finished:
04 May 2009
Size:
5¾" x 13" (fits in standard 11" x 22" size frame)
Goofs
: one, but totally unnoticeable.
Purpose:
decorative/gift
Notes:
} Called for Mill Hill beads along the near-bottom of her skirt, bodice and crown; instead of having a multitude of beads left over I'd never use, I substituted the beads with a blend of 1 strand each of DMC Rayons 30762R and 30211R (cream and lavender). Gives the shiny for less time and frustration of the beads, LOL.
} Called for DMC Light Effects E5272 blended with 3865 and 415, which I didn't have/couldn't find, so I used Kreinik 001 10M #8 silver; but I misjudged the size of the Kreinik (too big) and it didn't blend very well for the wings or stars, so for the wings, I used the silver for my bottom stitches and the regular DMC colors for my top and the stars in just the silver.
} Can't believe the luck in finding a mat that matches one of the dark blue floss colors thisclose. Woot!
Pattern Notes:
There are two places where the back-stitching lines did not get printed, so if you do this pattern, refer to the finished picture in the book as well. There are BS's missing on her legs and the right-side sleeve. And on the second page the 10-count gridlines are mucked up on the right. I don't know if these types of errors occur on other patterns in the book.
Available?
No