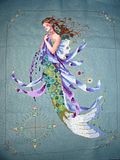 Design:
Shimmering Mermaid
Designer/Source:
Nora Corbett/Mirabilia
Website:
www.mirabilia.com
Fabric:
32 ct. Lugana
Color:
?? a sort of medium teal, more green than blue
Floss:
DMC, chart-indicated, over 2
Started:
sometime in 2006; had looong stretches of no progress
Finished:
11 Jan 2009
Size:
chart-indicated
Goofs:
yes, at least two that I remember, not design-impairing; one stands out more than the other. Doh.
Purpose:
decorative
Notes:
The compass was a pain while using transparent thread, then I wised up and switched to a thread practically the same color as the fabric. I think trans. thread would not be as much of a pain on darker shaded fabric; unless I was in spots like her hair/fin/body where there weren't expanses of no other stitches, it was hard to keep track of where I'd beaded with the trans thread.
Available?
No - Mine!