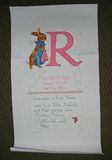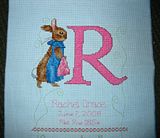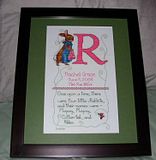 Design:
Improvised from Beatrix Potter Alphabet
Designer/Source:
Website:
www.123stitch.com/cgi-perl/itemdetail.pl?item=4099
Fabric:
14 ct. Aida
Floss:
DMC, chart-indicated
Started:
July or August 2008
Finished:
July/August?/September? 2008; framed 08 Feb 2009
Size:
fits in 11"x14" frame, matted
Goofs:
none; but in hindsight, I should have used a darker pink for her name and info.
Purpose:
birth announcement
Notes:
I used the "R" and I forget which letter the bunny I used was on... "G" maybe; a Potter-ish pink color rather than the green they suggest; a quote from one of the books. Modeled the swirly backstitching from the BP growth chart; and used a quote from
The Tale of Peter Rabbit
by Beatrix Potter.
Available?
No