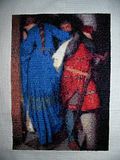 Design:
The Meeting on the Turret Stairs
Designer/Source:
Fredrick Burton (original artist), from ArtofStitching.com freebie size collection
Website:
www.artofstitching.com/art/burton/pages/themeeting.html
Fabric:
18 ct. Aida
Floss:
DMC, chart-indicated
Started:
mid/late Feb 2008
Finished:
05 Apr 2008
Size:
4¾" x 6¾"
Goofs:
yes, not design-impairing
Purpose:
to eventually be framed for me. Came
thisclose
to seeing the original in Dublin, but since it's a watercolor, it's not on display all the time. Sadness.
Available?
No - Mine!