Visiting friends means I don't feel as guilty baking and making stuff. Partly because I know I won't eat it all myself. LOL
My friends Karen and Cathy came up for the weekend. Karen was running a 5K on Saturday and that meant yummy noms on hand.
Prior to their arrival, I made some
Nutella Fudge with Sea Salt.
Might I just say -
YUM!
Source:
http://thecrunchymamacita.blogspot.com/2011/12/nutella-fudge-with-sea-salt.html
The only thing I changed was the amount of butter. I've
never
seen or used butter in a fudge recipe before, so I knocked the amount down by half. And I used plain ole Nestle's milk chocolate chips.
I even broke the seal on the fancy vanilla. =D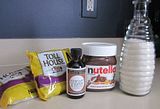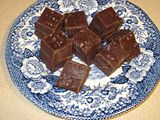 After a while, the salt melted. The only thing I can think of is from the heat of the fudge. Next time (oh yes, there will be a next time) I think I'll let it cool/set, then let it sit in room temperature for a bit
then
add the sea salt and press it in.
---
For dinner Saturday, we had a modified version of
Three Cheese & Chicken Stuffed Shells
and
copycat Red Lobster Cheddar Bay Biscuits
Sources:
Shells:
http://www.tasteandtellblog.com/2009/06/three-cheese-chicken-stuffed-shells/
Biscuits:
http://allsecretrestaurantrecipes.com/red-lobster-recipes/red-lobster-
biscuits-copycat-recipes/
For both, we have gluten free versions. The shells are supposed to be the large ones, but the ones Karen ordered didn't arrive in time, so we got some Tinkyada regular size shells and casseroled it. We also left out the chicken since she is vegetarian. I think we'll try using some Quorn chicken next time with the big shells.
Otherwise, this turned out really yummy. And while costlier than regular pasta, if you can't have gluten the Tinkyada is a good alternative. I found the texture and taste pretty damn close to regular semolina pasta.
And we also did the cheddar biscuits using Gluten Free Bisquick. They tasted okay, but were weren't impressed. They were still rather white and anemic looking. They looked nothing like the nice ones on the box. Ours show yellow in the photo because of the garlic butter. I dunno. I was expecting better as I've had no problems with other Bisquick mixes and recipes.
Before:
After: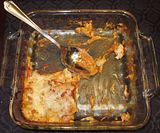 ---
Then for breakfast Sunday morning, Karen made
Lemon Streusel Pancakes with Blueberry Compote
:
http://veggiefoodlover.wordpress.com/2012/02/21/recipe-gluten-free-lemon-streusel-pancakes-with-berry-compote/